In February of 1989 Lee Simmons resigns from his pastoral role at Immanuel Baptist Church to start his own non-denominational church. After three months of weekly church planting team meetings, Faith Chapel receives its name from the step of faith that is being taken.

On June 4, 1989 Faith Chapel has its first Sunday service at Onondaga Hill Club. As the group continues to grow, they transition into the Ready Set Grow Day Care Center in December of 1989, and then move again into the auditorium of Faith Heritage in June of 1991.

By June of 1992 Faith Chapel was able to purchase its first building in Camillus, NY. Faith Chapel was able to have their first Sunday service in their new building on Gillespie Ave on November 22, 1992.

In the Spring of 1994 the congregation has doubled in size and, even with four weekly services, the building is now too small and they begin looking for new property.
In the Spring of 1995 Faith Chapel purchases 79 acres of property at
4113 W. Seneca Turnpike on Onondaga Hill.

By Spring of 1997 the entire seven year loan was paid off by the financial sacrifices of the congregation.

June of 1997 the ground breaking takes place at the new property and a commitment is made to build without borrowing, with God's people doing the work. Faith Chapel will literally be founded on the Word of God with dozens of Bibles being placed in the foundation before the cement is poured. By Summer of 1998 scripture verses are written on the concrete floors and sheet rocked walls, and the building is almost complete by Fall of 1998.

Easter Sunday of 1999 the first church service is held in the building!
In January of 2009 our beloved pastors, Jim and Kelly Tuttle, become the lead pastors at Faith Chapel with a new mission; "Raise Up Disciples to Impact Their World." They transition the emphasis of ministry to Onondaga County to every believer to become "everyday missionaries" in their workplaces, schools, and neighborhoods.

In response to this new mission, Pastors Jim and Kelly began the Feed the City ministry on the South-West side of Syracuse. The ministry allows all who desire to partner with meeting the physical and spiritual needs of the city by giving away bags of food and diapers to those in need. Along with these items, prayer is offered to all!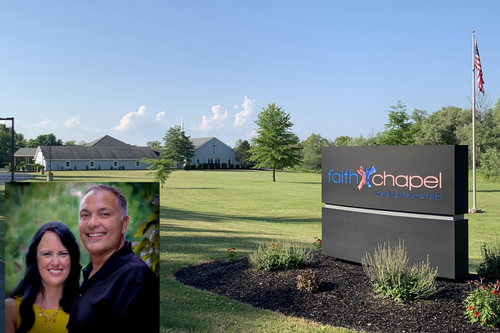 Be a part of our story...
Join us every Sunday as we gather to worship together at 10am!